One Order, One Tree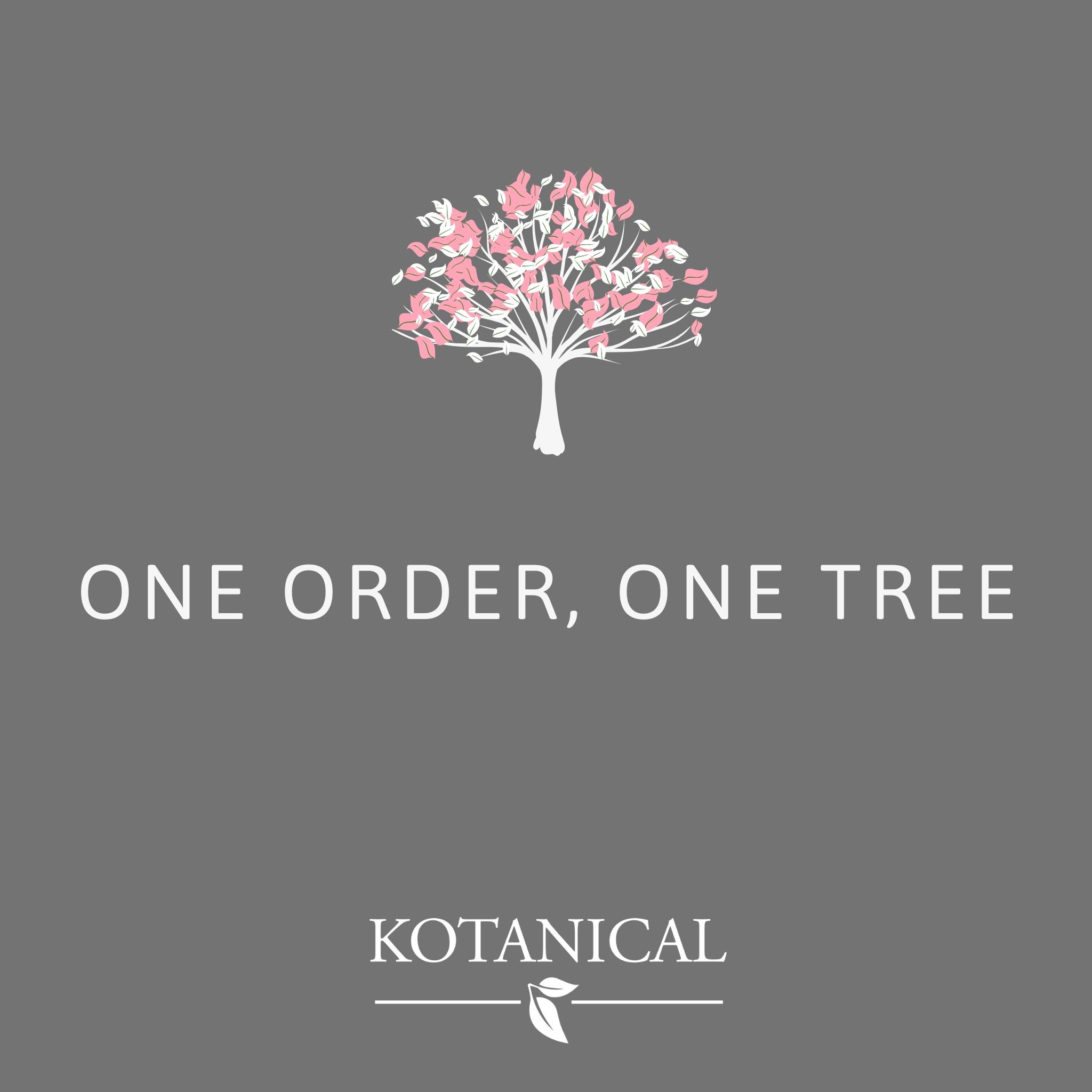 When you order your Essential Oils and Diffusers from Kotanical, we plant a tree - One order, One Tree. As some of you may know I am committed to making my business work with our environment. Whether this is by working only with organic ingredients, reducing plastic use, introducing bottle return initiatives, Growing peppermint here in Ireland, Being the first to start manufacturing essential oils here in Ireland, Working with growers in Ireland and ensuring all packaging is recyclable when possible
 I am always looking for ways to make my business more sustainable and environmentally friendly. So now I have decided Kotanical is going to plant trees. 
 One Tree Planted 
To achieve this I have partnered with OneTreePlanted, a US based non-profit organisation focused on global reforestation. Working in South America, Asia, North America, and Africa, OneTreePlanted is focused on helping reforestation from forest fires and floods, as well as creating jobs, building communities, and protecting habitat for biodiversity. Every tree planted benefits air, water, biodiversity, sustainability, health, and climate.
 How it Works
When you place an order an app from OneTreePlanted will automatically tally your order to my account with One Tree Planted - for every order Kotanical contributes 1 EURO which pays for the planting of 1 Tree. At the end of each month, OneTreePlanted invoices Kotanical for the orders placed that month. For transparency I will publish the receipt from OneTreePlanted, and report on how many trees have been planted that month - thanks to your orders. 
There is no cost to you in this program - it is a commitment to give from Kotanical.The website now shows a widget from OneTreePlanted to show this program is active.The next time you order - we will plant a tree together. 
Thank you!
Karl
Collapsible content
Legal Notice

All content of this application is owned or controlled by AJ Growth Ventures LTD (Ireland) and is protected by worldwide copyright laws. You may download page only for your personal use for non-commercial purposes but no modification or further reproduction of the page is permitted. The page may otherwise not be copied or used in anyway.

The owners of this application will use reasonable efforts to include up-to-date and accurate information in this application, but make no representations, warranties, or assurances as to the accuracy, currency, or completeness of the information provided. The owners of this application shall not be liable for any damages or injury resulting from your access to, or inability to access, this application, or from your reliance on any information provided at this application. This application is for residents of Ireland.

This application may provide links or references to other sites but the owners of this application have no responsibility for the page of such other sites and shall not be liable for any damages or injury arising from that page. Any links to other sites are provided as merely a convenience to the users of this application.

The trademarks, service marks, trade names, trade dress and products in this application are protected in Ireland and internationally. No use of any of these may be made without the prior, written authorization of the owners of this application, except to identify the products or services of the company.

Any personally identifiable information in electronic communications to this application is governed by this application's Privacy Policy. The owners of this application shall be free to use or copy all other information in any such communications, including any ideas, inventions, concepts, techniques or know-how disclosed therein, for any purposes. Such purposes may include disclosure to third parties and/or developing, manufacturing and/or marketing goods or services.

The sender of any communications to this application or otherwise to the owners of this application shall be responsible for the page and information contained therein, including its truthfulness and accuracy.

AJ Growth Ventures LTD

IRELAND 
Shipping T&C

Welcome to www.kotanical.ie, a website owned and operated by AJ GROWTH VENTURES LTD. We agree to sell our products to you subject to the terms and conditions set out on this page. Please read these conditions carefully before using the www.Kotanical.ie website. By entering the site www.kotanical.ie  you agree to the terms and condition described below.

"In order to offer you Klarna's payment methods, we might in the checkout pass your personal data in the form of contact and order details to Klarna, in order for Klarna to assess whether you qualify for their payment methods and to tailor those payment methods for you. Your personal data transferred is processed in line with Klarna's own privacy notice."

This website is for use by the residents of the Island of Ireland who are 18 years and over only.

It is really important to us at KOTANICAL that our customers receive satisfaction from our products and our services. We appreciate your help in agreeing and complying to our terms and conditions. We outline them here so that both parties are clear about their obligations and rights. It all sounds very formal but they are very standard and for everyone's protection.

COPYRIGHT, TRADEMARKS

All contents of this website including web site design, text, graphics, source code and software are protected by copyright AJ GROWTH VENTURES LTD Any use of the contents of this website is prohibited without the express written consent of ares essential products.

PURCHASING

Making a purchase could not be easier. Just browse our store, and add any items that you wish to buy into the shopping cart. After you have finished your selection, click on 'Checkout' and you will be asked for a few details that we need to be able to complete the order. When you click on "Purchase", you offer to buy the goods at the prices indicated including any delivery charges that apply to your purchase. All orders will be subject to these conditions.

If your order is accepted, you will be notified of this soon after you submit your order.

Please be aware that under Irish law when buying goods or services on the internet, the consumer is entering a legally binding contract and is protected by online consumer rights including EU distance selling directive (S.I. 207 2001). Persons attempting fraudulent transactions will be prosecuted accordingly.

AJ GROWTH VENTURES LTD reserve the right to cancel an order if:

There is insufficient stock to deliver the goods ordered
We cannot arrange delivery to your area
One or more of the goods ordered by you was listed at an incorrect price due to an error. If we do cancel your order we will notify you by email and refund your account any sum deducted as soon as possible. Ares essential products will not be obliged to offer any additional compensation for disappointment suffered.

PRICING

All prices for products and delivery are quoted in EUR, GBP, or GBP. Prices and availability of products on the site are subject to change without notice. Delivery is due under the circumstances stated and charged accordingly. 

PAYMENT

You can pay by any credit card via Stripe or Paypal. You do NOT need to be registered with PayPal to pay. All payment processing is handled off-site by our partners, PayPal and this information is encrypted and sent using industry standard SSL security technology, (the industry standard as used by other e-commerce and banking websites) to minimise the possibility of unauthorised access or disclosure. This is indicated by the padlock symbol on your web browser (right hand side).

Your credit card details are not visible to KOTANICAL we do not store any credit card details on our systems. Please do not send credit card details via email as this form of communication is not secure.

AJ GROWTH VENTURES LTD retains title ownership of the goods until full payment has been received and cleared. Ares essential products reserve the right to decline any orders and any payment taken will be refunded.

PRODUCTS

All products sold by ares essential products contain organic ingredients and a small percentage of non-organic ingredients. They are made in small batches by hand according to best practices and in compliance with good manufacturing principles. All products have been subjected to testing according to EU Directives as of January 2013.

ALLERGIES & ADVICE

People with nut allergies and sensitive skin should carry out a simple skin test to ensure they don't react to the natural ingredients in our products. Our products don't claim to cure any specific condition and we encourage you to seek advice for underlying conditions. Information and advice given on our products, marketing material, website etc. is not intended to replace medical opinion.

DELIVERY

Deliveries are by general post or by courier service. Our courier requires that the recipient be able to sign for the package so please use a delivery address where that is possible during working hours, in addition to a phone number so arrangements can be made. If the nominated place of delivery is unattended at the time delivery is attempted, the delivery person will leave a calling card with the driver's phone number on it. It is your responsibility to call the driver and agreed a time for to reattempt delivery. There will be no charge incurred for a second attempted delivery. If their subsequent delivery attempts after the second attempt is not successful the customer will incur an additional delivery charge of €6.50.

Goods must be signed for and received by a person 18 years of age or older.

Ireland FREE delivery - Delivery within the 32 counties is FREE for orders over €40 (after VAT).

Ireland Standard Delivery - Delivery within the 32 counties costs €6 for orders under €40 (after VAT and excluding delivery) .

Under normal circumstances all Ireland deliveries will be dispatched within 24 hours but you should allow 3 working days before contacting us re same.

UK DELIVERY

Delivery for UKcosts a flat fee of £6 for orders under £40 and is free for orders over £40. Delivery for UK and Europe varies between 5 to 7 working days and we cannot guarantee an arrival date for orders outside of Ireland.

UK DELIVERY

Delivery for Europe costs a flat fee of €6 for orders under €40 and is free for orders over €40. Delivery for UK and Europe varies between 5 to 7 working days and we cannot guarantee an arrival date for orders outside of Ireland.

US DELIVERY

We cannot currently ship items to the USA as they prohibit the shipping of all cosmetic products through the mail.

DAMAGED GOODS

You must report damages within 24 hours of delivery. It is important that each item is carefully and thoroughly inspected by you or your authorized agent immediately upon delivery. Kotanical will not be responsible for any damage not reported within 24 hours. Damaged goods can be returned by Registered Post please contact us for return details. Please note that replacements for exchange of damaged goods will not be dispatched until the original item has been received by us.
This does not affect your statutory rights.

AMENDMENTS & CANCELLATIONS

If you wish to amend your order after you have placed it, just contact us by email at team@kotanical.ie  and we will be pleased to do this without further charges. However, this is only possible if we receive your new instructions before your order has been dispatched. We will be able to tell you if this is the case.

INCORRECT ADDRESS

The customer is liable in this case when wrong address details are given and we ship the order, in some cases our shipping partner DPD can retrieve your order, but not always, if this happens we can try and find a solution but we cannot replace your order for free under these circumstances.

DATA PROTECTION & PRIVACY POLICY

Kotanical retains information about our customers necessary to process orders and requests as well as to speed up repeat purchases at our website. www.kotanical.ie is the data controller for the purpose of the Data Protection Act 1998 (the Act). The information we collect is always provided voluntarily by you and includes:

Your name
Your billing address
Your delivery address
Your contact details, including telephone and email information so that we or our delivery agents may contact you to make arrangements for delivery.

If you have purchased from Kotanical or registered for our newsletter, Facebook and or Twitter feeds, we may contact you with updates on our products, news, special offers etc. either by email, post or social media. You have the option to opt-out of receiving marketing communications from us. If you do not wish to continue to receive marketing from us you should opt-out by by clicking the "unsubscribe" link on the bottom of every email communication.

 

Any information and data collected from you during the ordering/payment transaction will be used solely for the purpose of processing your order. We will never sell or disclose this information to a third party.

SECURITY

Data you submit to our website is held on secure servers hosted by SHOPIFY. The nature of the Internet is such that we cannot guarantee or warrant the security of any information you transmit to us via the Internet. No data transmission over the Internet can be guaranteed to be 100% secure. However, we will take all reasonable steps (including appropriate technical and organisational measures) to protect your Personal Data.

COOKIE TRACKING TECHNOLOGY

The site may use cookie and tracking technology depending on the features offered. Cookie and tracking technology are useful for gathering information such as browser type and operating system, tracking the number of visitors to the site, and understanding how visitors use the site. Personal information cannot be collected via cookies and other tracking technology, however, if you previously provided personally identifiable information, cookies may be tied to such information. Aggregate cookie and tracking information may be shared with third parties, including our site analytics partner, Google Analytics.

LEGAL

Sales on this website are governed by Irish law and you agree to submit any dispute to the exclusive jurisdiction of the Irish courts. All orders are subject to these terms and conditions, and no amendments will be accepted by us. Persons attempting fraudulent transactions will be prosecuted accordingly.

Relevant legislation governing these Terms & Conditions is the Sales of Goods (Supply of Services) Act, 1980, the Consumer Information Act, 1978, the EU Directive on Distance Selling, SI 207 of 2001 and SI 68 of 2003, the Data Protection (Amendment) Act, 2003 and the Copyright & Related Act, 2000.

DISCLAIMER & LIMITATION OF LIABILITY

The site is provided on an 'as is', 'as available' basis. KOTANICAL  and its agents do not provide a guarantee that the use of the site will be uninterrupted or error-free. Similarly KOTANICAL  and its agents do not guarantee the accuracy, integrity or completeness of the content provided on the site, the products or services offered for sale on the site. In addition KOTANICAL  and its agents are not liable for any damages that result from the use of or inability to use the site including mistakes, omissions, interruptions, deletion of files or email, errors, defects, viruses, delays of any kind or failure of performance regardless of the cause.

MODIFICATIONS OF THE TERMS

We reserve the right to change the terms of use or policies regarding the use of the Website (including, in particular, those relating to price or availability) at any time.

CONTACT DETAILS & CUSTOMER SERVICE

www.KOTANICAL.com is an online store operated by:

AJ GROWTH VENTURES LTD

Nesta Limited, Kilbarrack Parade, Kilbarrack, Dublin 5, D05 DC60
Email: team@kotanical.ie
Discount T&C

Discount codes are not valid during sale periods
Discount cannot be applied to past orders
KOTANICAL reserves the right to change or alter the terms of this discount offer at any time
Restrictions may apply to item quantities for some offers
No return on sale items.
Request Personal Data

You can request your personal data by filling this form. Or you can log in here.

I also consent to having kotanical collect my email so that they can send me my requested info. For more info check our privacy policy where you'll get more info on where, how and why we store your data.